Not a very accurate title, as fourth time may be the charm. But whatevs
I really like this pattern. Have wanted to make it for a long time. Finally it made it to the top of my to sew list.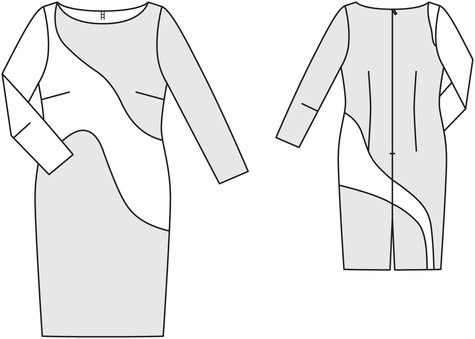 As I was drafting it, I realised how fabulous it would be as a simple sheath dress for border prints. And I had a laser cut faux suede in my stash that would be perfect.
I could not get this idea out of my head.
I know the fabric has absolutely no stretch (its backed with some sort of black synthetic layer).
I know sheath dresses are uncomfortable in fabrics with no stretch. Ask me how I know. African wax fabric cut on the cross grain, I'm looking at you.
I know I've put on weight and am probably not the same size. Perimenopause, its all your fault, not my diet or lifestyle.
I went ahead anyway.
You know how this ends.
The style was fine.
The cut outs on the hem worked really well.
It has a lovely darted sleeve head.
But the sizing, not so good.
Sadly it's too tight through the upper body and sleeves. So tight I can't move my arms to even try and zip it up. Once zipped up it dreadfully uncomfortable and reminiscent of sausages. I've spared you the photographic evidence.
The dress is now waiting for me to lose weight. Or turn it into a skirt. Now that's an excellent idea!
But I still saw possibilities with this pattern. I added width to the pattern and made another version in a scuba print.
I know.  I've both sized up and used a fabric with stretch. Not the cleverest move.
This scuba print has the best pattern (also I love my strawberry thief background).
I finished the neck with bias binding. And scuba meant no zip and easy zig zag hemming. Colour matched of course!
It's a very comfortable dress to wear, but this ridiculously busy print hid the fitting issues.
It's too big through the back and the bust darts are too low.  But I only know that because I made third version. I don't notice any of this with this fun dress.
The third version was made with a ponte and another stretch woven from my stash, both with LOTS of 4 way stretch.
Look at all that extra fabric through the back!
I really am not winning with my fabric choices!
But my children are delightful.
Bottom line is that
I love this pattern
I wish I had been smarter with adjusting the fit
A fourth version, that fits perfectly, with some of the width taken back out, needs to be made