My wardrobe is lacking in me made work appropriate winter jackets.  Not really surprising. Jackets, done properly, can be a lot of work.
So, I purchased a lovely silvery grey ponte from Tessuti with a soft but semi-structured jacket in mind. And spent a delightful few days looking through my patterns and being distracted by all sorts of other projects before settling on BurdaStyle 08/2013 # 106.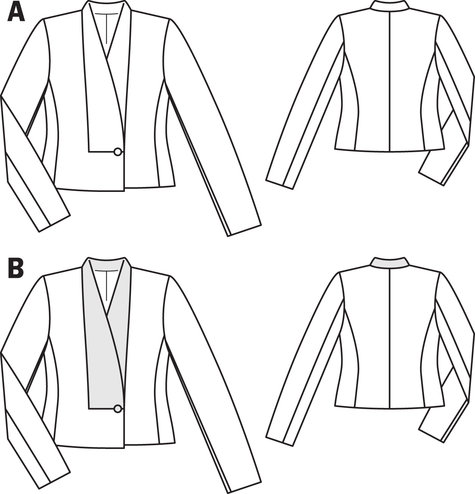 I made a toile from leftover scuba to check the fit and to see how the style might look in a semi structured stretch fabric. Yes, I used two different remnants.
Gorgeous isn't it!
And then I got cold feet. I decided that a woven stretch cashmere wool blend in my stash would be a much better match for this pattern. And also, a lot more work because proper tailoring would be required. So that project is still on the to-do list.
I still wanted to use the silvery ponte, so my next pattern choice was the Hvar Jacket by Itch to Stitch.
This is a new to me pattern company.
I couldn't possibly cut into that lovely silvery ponte without a toile! But I didn't have enough of any other stable stretch fabric I was prepared to sacrifice for a toile.
So this time I committed to making a wearable muslin from a stretch synthetic suede that has been in my stash for almost as long as I've been a mum (Felicity has just turned 20…)
Yes, you know where this is going: silvery ponte still in the stash. I'm thinking it would make a great winter frock…
I'm very happy with my new suede blue jacket! It's a nice mix between waterfall cardigan and formal jacket. With none of the work of tailoring or even lining.
This is a straight size 12 made up in a stretch synthetic suede. This fabric has about 10% stretch in one direction only.
I took the sleeve hems up a cm or two more than drafted but otherwise this is straight out of the packet, so to speak (it's a PDF).
It's not perfect but I'm happy enough with the fit. Good decision to make a wearable muslin. It's very wearable!
And that blouse underneath the jacket?
I started making it last year and then got distracted.  It's BurdaStyle 04/2010 #114 in Liberty's strawberry thief tana lawn
I traced a size 44 and cut out as instructed except no pocket and no back loop. I'm happy with how it fits.
My efforts to pattern match paid off. There is something very satisfying about getting pattern matching right!
I didn't use standard interfacing. Instead I used a cotton linen remnant as a sew in interfacing. I know no one can see it. But I loved this fabric and although the dress I made from it is long gone, it can live on with me in this shirt.
The 'interfacing' was fabric bought in the USA, the Liberty was purchased in the UK, the pattern is from Germany, I used Closet Case Files instructions from Canada for the collar points and the whole lot was sewn in Australia.
Multi-nationalism at its best!