What do you do when you receive a wedding invitation with a dress code like this?
You buy new fabric and make two new dresses. Of course! What other option was there?
I had 'nothing' already suitable in my wardrobe or fabric stash. And it was a spring wedding in Queensland so I couldn't be sure of the weather on the day. I needed at least two options….
This is the one I wore. Aren't the textiles in the hotel lobby excellent?
This dress is a repeat of what seems to be becoming my TNT sheath dress, based on BurdaStyle 02/2014#141. Made up in scuba. Previous versions blogged already and I'm sure I'll be making more. There are some further fit adjustments needed.
With this one, the bust apex was too low so I did a lazy short bodice adjustment: I took 2 cm out of the shoulder seam and then adjusted the sleeve by taking the same 2 cm out of the sleeve seam. I know. Not the right way to do it. But. Scuba. #forgiving
If you look hard you can see that the bust dart is still a bit low. You can also see the awesome sleeve head dart that this design has.
I really like this print.
I even like the chopped up pattern through the back!
I added a zip, but it is not needed because my scuba has enough stretch.
And this is the dress I didn't wear.
This is Burdastyle 05/2010 #139 in a border print viscose. The border print is subtle –  a great big white triangle with climbing flowers reaching more than halfway through the width.
I've loved this pattern for a long time.
Gotta love Burda's photo shoots.
Who wouldn't want to be wearing a dress like this while hanging out your washing, in heels, in a gorgeous light filled historic Rome apartment with your hot Italian man lying on the bed with his shirt off? Presumably because he only has one set of clothes and they are in the wash? Come to think of it, even better would be to be the one on the bed doing nothing while your hot Italian man hangs out the washing in his underclothes. Sigh. One can dream. About living in Italy.
Back to the sewing.
The design is supposed to be lined but my viscose didn't need it.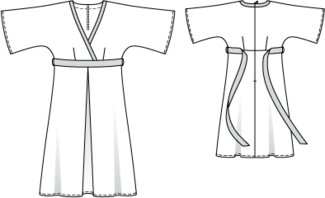 This meant I finished the neck differently.
First I stabilised the neck edge with cotton tape on the right side to try to keep the bias under control (and woven viscose has got to be the worst fabric to try and sew on the bias!)
Then I sewed on bias tape right side to wrong side, trimmed and flipped to the front and then topstitched it down. Viola. Facing and trim all done.
This is what it looked like on the wrong side before I trimmed off the extra and sewed the bodice edge to the skirt. No lining, but a clean finish and the bias edge supported.
Everything else was standard, apart from length – my dress is 10 cm longer than drafted. I wanted to get all of that border printed triangle of white on the skirt!
I like this design, but I'm not convinced the pink bias trim and ribbon is the best addition.
Black or another darker colour would have been better. But, refer to wedding invitation instructions above. Spring hues it was.
Spring. Such a lovely time of the year. This is the view looking up through the blossoming Manchurian pear tree in my front garden last weekend. #nofilter. The sky really was that blue. Of course two days later it was cold again…