I've been dreaming of a White Christmas…dress. Apologies to Bing Crosby and Michael Bublé.
And my dreams have materialized thanks to my fabric and pattern stash. Gotta love an extensive stash!
This pattern  is from one of Burda's extra magazines. The website is calling it Burda Easy HW/2014 but my magazine is called Burda Special Autumn/Winter 2014. It's Dress E without the collar and pocket flaps. Also available as a PDF download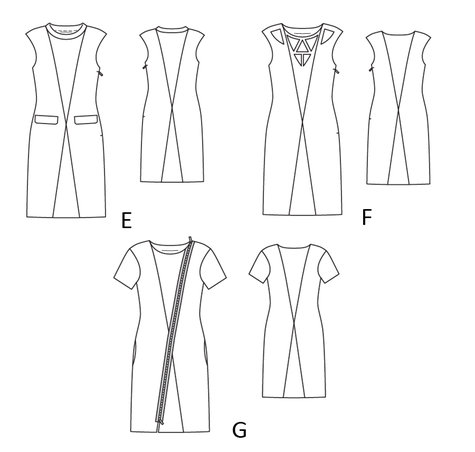 I made this dress in 2015 in a colour-blocked white and grey patterned lace and grizzled about a sway back issue that I didn't manage to fix. Then, after a short period in the magic closet, I wore the dress all the time.
Three years on, it was time to make an all white version. I traced off the size up (thanks peri-menopause!) and made a trial version in a Christmas themed cotton print. With sleeves, out of curiosity.  This dress  was the supporting act in my last post.
The fit seemed okay, so I went ahead with my ivory stretch cotton jacquard.
I love this fabric. I already have a skirt made in it that I love.
I used a poly cotton for the facings.
There's a side zip.
I used a bias cut poly cotton remnant to cover the end of the zip too.
I added a pocket, on the non zip side. Because. Pockets!
The sway back issue is still there.
I'm thinking now that it might be a short torso issue.
But, you know what? I can't see it from the front. I predict I'm going to wear this dress. A. Lot.
Out take. White Christmas Monster.
Merry Christmas and Happy Holidays to everyone who celebrates.