Another addition to Felicity's black and ivory summer mini wardrobe: a maxi dress based on BurdaStyle 04/2013 #125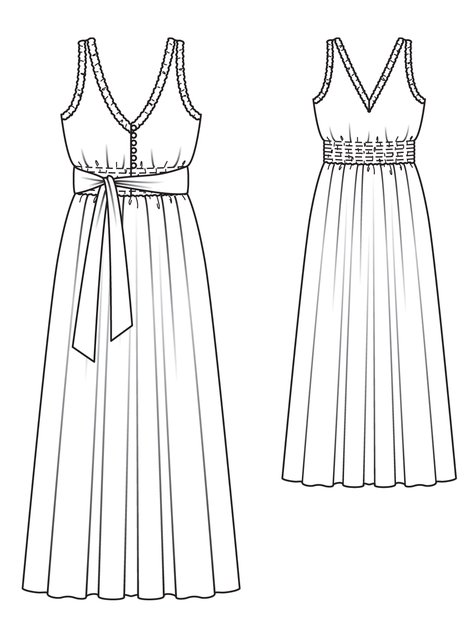 It's sewn in rayon from Spotlight. Unfortunately I didn't buy a generous amount: I had 2.9 metres and the pattern called for 3.6 metres. This meant the bodice wasn't lined and there was no belt, no button loops down the front and no gathered trim around the neck and armscyes.
It's cut out as a size 42 with a 2cm FBA and the front neckline raised by 2 cm. I didn't add in the vertical dart from the FBA. Instead I angled the side seams in a bit to compensate.
I stabilised the neck with cotton tape.
Then I finished the neckline and armscyes with bias binding from deep stash. The bias binding is stiff and I think it is cotton. It's also not prewashed. Could be a recipe for disaster…
Both the front and the back bodice have a central seam so getting a nice neat V in the middle is easy: you just sew it in after you've finished and faced everything.
The shirring was done with what I think is hat elastic (also deep stash), or could just be elastic thread, in the bobbin. This is a trick my mum taught me. I thought it broke all sorts of sewing rules until I googled and found several tutorials describing the exact same thing. So its a totally legit method.Much more fun when I thought mum had shown me something clever but a bit dodgy!
It's a bit weird to have elastic in your bobbin. But it really works!
The front and back bodices were shirred individually after the centre back and centre front seams were sewn. This meant the shirring went across the centre back and centre front seams
I tied off the ends and then sewed over them before joining the side seams together. Hope it all holds together.
The skirt is gathered and then sewn into the shirred bodice. You have to stretch the shirring out. If I make this again I'll do the shirring after attaching the skirt.
I know the pattern placement is not ideal or evenly spaced through the shirring. But not having enough fabric will do that to you.
Pockets were added because pockets are always a good idea. Even when you have no fabric for them. I always seem to find something suitable in my remnants stash for pockets! This time it seems to be a very thin black silk. I can't even remember what I made from it. Clearly this is also deep stash.
Back view without hair so we can see the V back.
After these photos were taken the hem went up by 5 cm to make it less like a gown.
Lovely pattern. Lovely daughter!