Felicity and her seamstress (that would be me) are still taking inspiration from the seventies.
This time it is in the form of dark caramel coloured corduroy utility trousers. I know. It's not the quintessential flares, but it is in orange/brown tones, and corduroy. That's seventies enough to me.
The fabric is a mid wale cotton corduroy from Spotlight with just enough give in the fabric to be very comfortable to wear. How do I know that? They got worn for three days straight as soon as they were off the sewing machine. There are plenty of wrinkles because these photos were taken on day 3. I don't think she slept in them, but I wouldn't be surprised…
I used Burda's utility trouser pattern from the March issue this year 03/2019 #102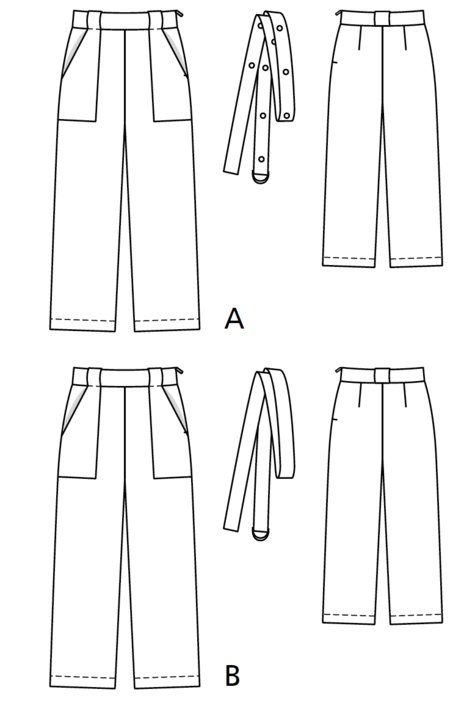 I made these in a straight size 40 and added 5 cm extra to the length. Plus a 4 cm hem allowance. Woefully inadequate. They needed 14 cm extra to the finished length, which we both agreed looked best as a band with the wales running horizontally.  For the record, Felicity is 178 cm tall, but is short waisted so her legs could be longer than standard for that height.
All my photos are barefoot, so she turned the band up like a cuff, but, trust me, it is the traditional trouser length with flat shoes on.
The belt loop is something fabulous from the stash that originally came from a designer fabric sale. Any Adelaide readers still remember Gay Naffines fabric sales fondly?
I lined the front pockets and belt loops with a leafy green charmeuse remnant.
You can't really see it ( I worked hard on that!). It has been reported as feeling great. And this is more what the colour is like in real life. The outdoor light with the autumn leaves seems to dull it a bit.
I also added an extra patch pocket to the back.
with one of Kylie and the Machine's great tags.
Slow fashion. That's me.