I really, really love this dress and I am wearing it, again, right now as I press publish on this post. I'm surprised to have arrived at the end of summer without having made at least one more version. Four Lodos and then distraction in the form of lovely yellow roses fabric might be the reason….
I'm very late to the Adeline party – this pattern has been out for some time and there are multiple lovely versions showcased on sewists' social media sites.
Better late than never? Definitely!
The Adeline is a cocoon shaped dress with a high low hem.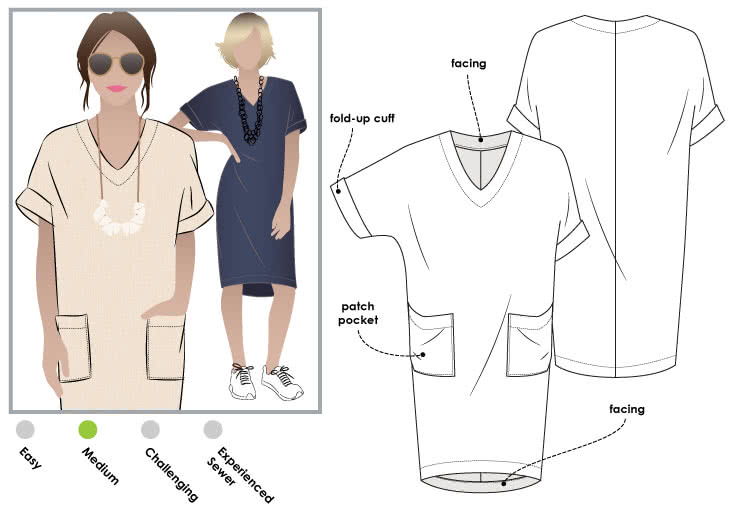 The robust body of my fabric illustrates this shape very effectively!
This is a size 16, printed at 98% by mistake. I made it up in an African wax print cotton bought in a market in Bordeaux, France a couple of years ago as a sewing souvenir. It was a typical wax print length of fabric – almost 6 meters long but only 120 cm wide.
This meant I had to piece one of the cut-on sleeves with the integrated cuffs. The seam is pattern matched but hidden under the turned back cuff. Only noticeable when ironing!
I also pattern matched the pockets – one perfectly and the other one with room for improvement.
It's a very subtle mismatch (it's the pocket on my right) – the yellow flowers don't align. This is because I cut this pocket piece across rather than with the grain. Not on purpose.
I didn't try so hard with the neck and hem facings- just centered the large teal design – but this worked out surprisingly well.
This dress was sewn at a holiday house at the beach. Yes I am that person who takes their sewing machine on holiday. The overlocker didn't get to come so the seam finishing is old school zigzag. Which you can see if you look at the image of the neck facing above very closely…
This is the smug look of a sewist who is very pleased with their work and delighted to have another garment that matches these shoes.
Today, like most times I wear it, this dress is being worn with trainers, but it's nice to know I can dress it up with these shoes if I want too. Shoes only seen on sewing blog posts? Surely that's not a thing!