I'm on a red dress roll. Must be Christmas!
This fabric was a souvenir from Barcelona. I fell in love with the colours and I love border prints. As a bonus it's an overprinted jacquard. Almost certainly made from synthetic fibres but interesting and unusual.
The base is white (as you can see above) and the looseness of the jacquard means that there are a few spots where this shows. Like below. The jacquard weave also made it very prone to fray. The overlocker was essential!
Style Arc's Adeline was just the simple dress pattern I needed to showcase the fabric. I made a size 16 (printed at 98% by mistake).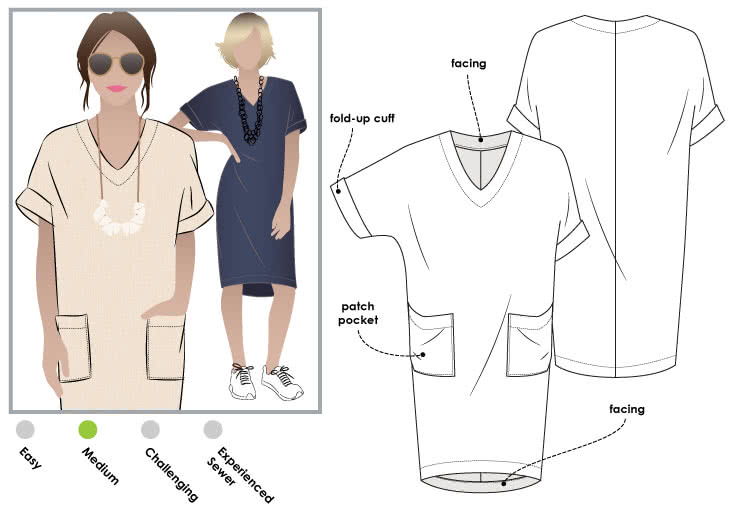 My souvenir fabric was a precut of 1.5 m. At least it was 150 cm wide and with a border printed on both selvedges! But there was no way I was going to be able to cut out this pattern as drafted with the longer turned up sleeves.
After some pattern and fabric Tetris and accepting that cuffed sleeves and pockets were not part of my vision for this fabric, I successfully placed the pattern pieces on with the border at the hems and just a teensy bit on the shoulder.
There were enough scraps left for the hem and neck facings, and some self drafted sleeve hem facings.
I placed the border so that the maximum width of the border was on the front. This meant that the last few cms of plain red under the border shows on the lower back hem. Perhaps I could have placed it differently? Or straightened out the hem? Would that have been better? I'll never know!
Such a comfortable dress to wear.
On it's first "outing" I wore it to a day event with bare legs and blue sandals and then changed to black tights and heels for an evening event.
He who Cooks thought the opaque tights were a bit heavy and needed balancing out with a chunky black necklace. He was right!
I love this pattern so much that I immediately made another one. This time with the cuffs and pockets in a turquoise silk nylon blend that's been a long time stash dweller. The last time I sewed with this fabric was March 2011!!
I don't think I've finished with this pattern yet.